The PTE exam is intended for individuals pursuing to study, work, or immigrate to many English-speaking countries.
Many people now prefer to take the PTE exam over IELTS or TOEFL. Scoring in PTE might be easy, but remember to master some tips and tricks to maximize your score.
PTE exam preparation requires methodical and long-term planning. In this post, our team of expert trainers from PTE Magic will share practical PTE study tips & tricks to help you ace your exam with flying colors.
Let's check them out!
(Read our Vietnamese version here)
PTE secrets: How to prepare for PTE?
The PTE preparation journey may seem daunting if this is your first attempt.
So, what is the best way to prepare? The two secrets are revealed right here.
The first secret is to understand PTE exam patterns and scores truly. While PTE study tips may help you hone your English skills, the PTE new format will tell you precisely what to do.
Remember to familiarize yourself with the PTE exam format! It will help you manage your time and know your strengths and weaknesses to improve.
The second secret is to have a solid PTE study strategy for a specific timeframe.
Don't cram the night before! PTE preparation takes time and effort, so set up a study plan long enough for you to gradually grasp the knowledge.
Break down knowledge and sections into days for easy revision.
You can spend one day per week on each of the four sections. From there, you can thoroughly revise everything in detail. There are two days left to review what you've studied and relax.
While studying through books and practice tests is a good start, involving the test in your daily activities will give you an edge. This way will help you practice more frequently and grasp the content more easily.
Once you know these two PTE secrets, you will get a clear direction for your PTE preparation.
Related:
PTE preparation: Top 10 tips & tricks from our PTE expert trainers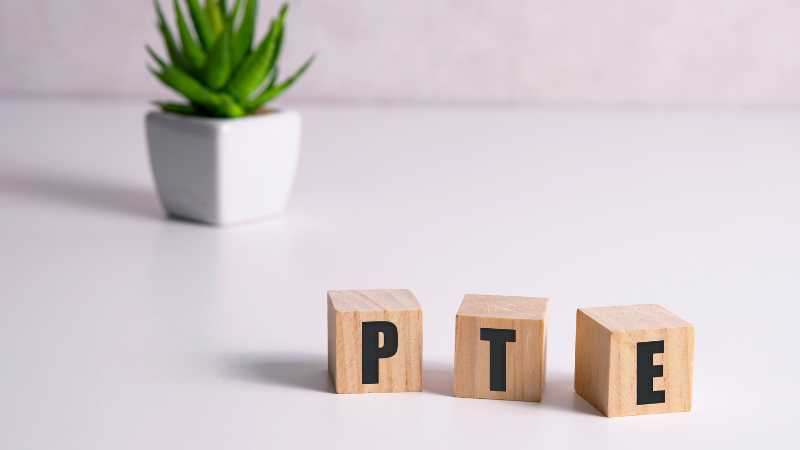 PTE test takers frequently get confused about the PTE preparation strategy.
No more worry! We have gathered the top ten PTE tips on how to crack the PTE exam.
Let's take a closer look.
Know your test
There are lots of unknown elements on the test, no matter whether you are taking it for the first or second time.
So, familiarize yourself with the PTE exam format and scoring first before moving on to further steps.
Take time to master the PTE format. This will help you to comprehend better the directions, length, and time given to each section, the types of questions, and the layout of your upcoming PTE exam.
An AI system completely scores PTE scores to ensure accuracy, consistency, and fairness. The score ranges between 10 and 90 to reflect your English proficiency level.
There is no passing score, you can only get good or bad scores.
Understanding the PTE score chart will help you determine a good score for your specific purpose.
Set your score goal
Once you know the PTE score chart, the next step is to set your score target.
You will understand your current English proficiency level and determine the amount of effort needed to reach your desired PTE score.
Furthermore, having a goal in mind may help you create a practical approach.
Remember to check the requirements of the country you will move to and set a score goal to achieve.
Use reliable preparation resources
It is important to get your PTE preparation materials from reliable sources.
Many students download outdated and untrusted materials when studying for the PTE exam. This will negatively affect their preparation and results.
Ensure that your study resources are beginner-friendly and cover the key PTE exam topics. Most importantly, they must be the latest versions.
You can find PTE preparation material by visiting the official Pearson website. They are:
Online Courses (Free)

Official Practice App (Free)

Official Coursesbooks (Paid)

Learn English with Pearson
See more:
Create your timetable
Even if you only have ten days to prepare for the PTE test, a good timetable will help you organize your content and study time reasonably and effectively.
Set aside a specific study space and time. Create effective study habits and routines.
This allows you to stay focused better during study time. Plus, you will benefit from a more smooth learning flow and improved receptivity.
Besides, as mentioned, allocate the knowledge to each section reasonably within a set time frame.
Find an online PTE trainer or join English-speaking groups
If self-study does not work for you, look for online professional coaching.
Many coaching services provide online classes to help students flexibly prepare for the upcoming PTE test at home.
An online PTE coach will provide you with the greatest advice and numerous online study resources so you may practice anytime, anywhere.
Online classes at home might be ideal if you have no time limits.
If you have a tight budget, you can join free English learning groups on social media. Actively interact with members to practice both your speaking and listening skills.
Familiarize taking notes
During the preparation process, take notes on what you've learned.
Some may even claim it wastes time. However, it is worth more than you think.
First, it will help you revise your ideas. You can learn things more effectively if you write them down after learning.
Besides, taking notes can be helpful for last-time revisions.
You don't need to cram all the books, take note of it. You may learn quickly using notes when your PTE exam is approaching.
Put the test into your daily life
Besides studying on paper, integrating English skills into real-life situations can help you strengthen your listening and speaking skills effectively and practically.
You can increase your natural reflexes and boost your vocabulary by thinking and expressing everything in English.
You can also observe how native speakers speak and use grammar through TV shows and movies to enhance your daily English practice.
Know your strengths and weaknesses
There might be nothing better than identifying your strengths and weaknesses.
Determine which sections and types of questions you can perform well in to maximize your strengths.
For your weak points, spend more time improving on them. You won't make the same mistakes in the exam if you continuously practice on your shortcomings.
Practice makes perfect
The key tip is practice, practice, and practice.
You will be well prepared for your test day if you practice in a simulated exam environment.
The PTE mock tests will help you track your learning progress and identify any points to correct and improve before the actual test.
Focus on the time! Always manage your time wisely and plan your response.
Answering 73-80 questions in almost three hours is overwhelming. Therefore, you need enough practice to read and understand and answer the question quickly and correctly.
Remember to take the time to double-check your answers before the test ends.
Rest
Be kind to yourself!
Keep a good routine for study and rest. Ensure to get enough sleep during the preparation process and the night before exam day.
Tips for the test day
The most important day is here! Now, follow our tips below for a smooth PTE exam day:
Before the test
Get enough energy for your three-hour exam.

Ensure to bring the proper identification and documentation to the test center.

Arrive at the testing location at least 30 minutes before the test starts.

You will have a locker facility to safely store your personal items such as bags, watches, mobile phones, snacks, and so on.
During the test
Read carefully and agree with the exam instructions.

Comply with the rules of the exam room.

Answer the question properly and avoid digression.

For PTE writing tasks, use correct punctuation such as full stops, commas, capital letters, etc.

Carefully adhere to the word limit.

For PTE speaking tasks, respond fluently and quickly. Note that the microphone will shut and stop recording after three seconds of silence.

Do not stick to a single question for too long.

Spend any leftover time reviewing your answers.

Finally, be confident and complete your PTE test!
FAQs
Should a beginner prepare PTE at home?
Yes, absolutely. 
You can thoroughly prepare for the PTE exam at home but plan your study effectively to boost your scores. Allocate time to study and rest wisely. In addition, you may also enroll in online classes if you want to learn flexibly.
How long in advance should you start preparing for your PTE test?
It depends on your current level of English and your target score.
Preparing for the PTE exam generally takes 4 to 6 weeks of regular practice. If you are not confident in your English, you should take extra study time to ensure a high score.
Conclusion
There may be many other tips out there, but the tips above are key points to help you have a solid PTE study plan.
Finally, practice makes perfect. Practice as much as you can before the exam day and remember to follow our guide to help you shine in your PTE exam.
Contact us if you have any difficulties with PTE preparation.