There will be unexpected events causing you to change your schedule.
Do not panic! While registering for the PTE exam, PTE always offers advantageous conditions for its test takers while registering for the PTE exam.
If your exam schedule overlaps with another plan or if you suffer from health problems, Pearson allows you to reschedule a PTE exam quickly and conveniently.
However, there are a few things to note. Check the rescheduling guide and its policies now!
(Read our Vietnamese version here)
Don't miss: See why our PTE self-study platform is loved by so many students!
When should you reschedule your PTE exam?
You can reschedule your PTE test for a fee before the test date whenever you change your plans. For example, you need to reschedule your test to a different test location or other PTE exam dates.
However, if you cannot take the test due to emergencies or reasons from the test center, you may reschedule the test for free.
Reschedule your PTE exam due to an illness or family emergency
If you cannot take your PTE test on the scheduled date because of personal health issues or a family emergency, you can rebook your test for another date at no extra cost.
You must present medical evidence from the hospital to prove your current health situation. Pearson will examine and decide whether you are eligible for free rescheduling.
Your medical proof is only applied for a single test rescheduling. Besides, you do not have the authority to reschedule or receive refunds automatically.
Reschedule your PTE test because PTE canceled your booking
There may be unforeseen or unavoidable events on the test day, such as bad weather or technical issues. Therefore, the test center must reschedule the PTE test automatically.
In such circumstances, the test center will quickly reschedule your exam for the earliest time slot open or at another testing location.
If this auto-arranged exam schedule doesn't work, you can cancel it for free and get a full refund.
Related: Effective PTE study plans for newbies!
How to reschedule a PTE test?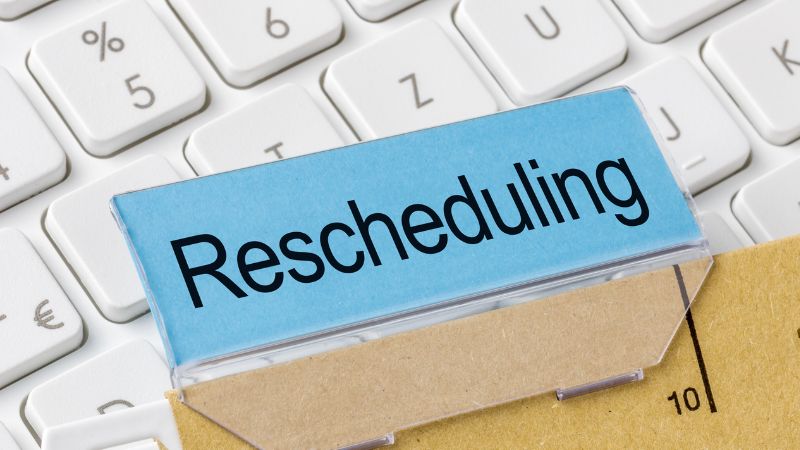 There are four methods to change your PTE test schedule.
Online
This is the most common way to reschedule a PTE test.
Log into your

myPTE account

.

Choose "Reschedule" under the booking information and follow the instructions.

Choose a new test time and location.

Double-check and confirm the updated booking information

Pay for rescheduling fees, if any.
Once payment is made, you will get an email to confirm the schedule modification.
By phone
You can call your test center to reschedule your test. Find the local number here.
Chat
If you need quick help, contact Pearson customer service. The support team will help you reschedule.
Fill in a form (for medical or family emergencies only)
You must fill in the Emergency Reschedule form if you need to change your appointment due to health issues or a family emergency.
You must send any supporting documentation within 14 calendar days of your scheduled test date.
If Pearson approves or rejects, you will get a confirmation email in 3-5 working days. Please check your spam box if you have yet to receive an email from your test center after five business days. 
What is the PTE rescheduling fee?
You may request a rescheduling for free. However, an additional fee will apply depending on the number of days between your rescheduling and the test date.
Here is the rescheduling policy:
14 calendar days or more

before your exam: You can reschedule your test at no cost.

8 to 13 calendar days

before your exam: you must pay an extra 50% of the original test price for rescheduling.

7 calendar days or fewer

before your exam: you must pay the full test fee, and get no refund.
Note that these policy timeframes do not include the test day.
What is the PTE cancellation policy?
If you cannot change your plan or reschedule your exam, you may consider canceling it. Before canceling your booking, be mindful of the cancellation policy:
Cancelation 14 calendar days or more

before your test: You will receive a 100% refund.

Cancelation 8 to 13 calendar days

before your test: You will receive a 50% refund of the initial test fee.

Cancelation 7 calendar days or fewer

before your test: You will lose your test fee and no refund will be given.
Your refund will be returned to the credit or debit card or bank account used for PTE registration.
If you paid the test fee with a PTE voucher, you will receive a replacement voucher with no deductions for late cancellation.
If you do not cancel your exam and appear on the test day, your record will indicate "no-show". Therefore, you will lose the test fee and get no refund. You will have to book another exam and pay the test fees again.
Conclusion
Are you about to reschedule your PTE exam? Whatever your reason, carefully check the timeframe policy to avoid additional fees.
It's much better to have a solid plan before the test date. Otherwise, I think rescheduling gives you more time to prepare. Take it easy!
Contact us if you seek help for extra practice!