The PTE test and the OET are the two required English proficiency tests for studying and working as a health professional abroad.
These two tests may benefit candidates in various ways. That's why most students struggle when choosing one.
You need to compare OET vs PTE to determine which best suits your purposes and situations. This post will help you break down the differences between them.
Don't miss: Check out these best PTE tricks and secrets for high scores!
(Read our Vietnamese version here)
OET vs PTE: The main differences
Before determining the right one for you, check our quick comparison between OET and PTE based on several factors.
| Particulars | OET | PTE |
| --- | --- | --- |
| Full form | Occupational English Test | Pearson Test of English |
| Academic reach | Healthcare regulatory boards and councils in Australia, New Zealand, Singapore, the US, the UK, Ireland, Dubai, Namibia, and Ukraine accept OET. | More than 3,000 universities worldwide recognize PTE Academic, including INSEAD, Yale, Harvard Business School, and Oxford University. |
| Exam dates | Once a month | Every 5 days |
| Time limit | 3 hours and 20 minutes | 2 hours and 15 minutes |
| Exam fee | $587 | Depend on which country you take the test in |
| Exam forms | Online & Offline | Online  |
| Score availability | 12 business days | 5 business days |
| Validity | 2 years | 2 years |
Have you got clear about the difference between OET vs PTE? Let's discuss when you should opt for PTE or OET.
When should you choose PTE?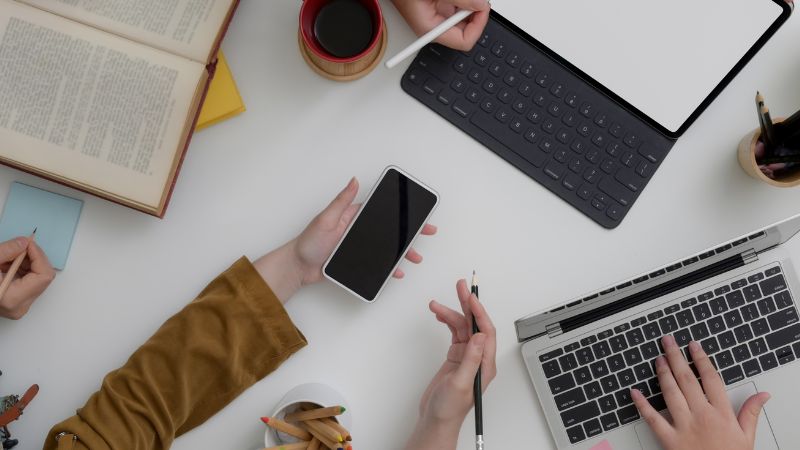 The PTE exam is a great option for international university and college admission.
You should take the PTE exam if you want to:
Receive the score quicker
PTE scores are ready within five business days of the test date.
The PTE test is perfect for you if you want a certificate immediately to finish your visa application or admission application.
Take a more comprehensive English proficiency test
The PTE exam focuses on daily English communication with various topics about daily life and society. This makes the test more thorough and extensive.
Moreover, PTE exams include various question types to provide the most accurate and detailed evaluation results for all English skills.
Get more diverse practice resources
PTE will be a wise choice if you need plenty of study resources. It's especially helpful for those lacking confidence in their English skills and needing more practice.
While OET study material is hard to find due to OET's heavy medical content, PTE exam preparation resources and mock tests can be widely dispersed and accessible.
If you are seeking a material resource, look at our PTE full mock test with answers.
When should you choose OET?
The OET exam is a test system evaluating the English communication skills of healthcare professionals.
You should take the OET exam if you want to:
Take a medical-linked English test
The OET exam covers medical and healthcare content. Therefore, it may be better than PTE if you want to apply for specialized healthcare professions.
OET exam with a specialized vocabulary relevant to the nursing and healthcare sector aims to address the language demands of healthcare professionals.
For example, students need to write a letter using the medical terms in the OET writing sub-test.
Enhance your medical professional
With a large vocabulary in the medical and healthcare fields, OET is the right option to improve your English professional language abilities.
The OET exam content reflects the duties and life in the medical workplace. For example,  the listening sub-test may include some audio about real-world activities in the hospital.
You see, the OET exam can help you become ready for your future career in a hospital or other medical facility.
Importantly, your medical vocabulary is good enough
Go for OET if you have a strong medical-specialized English vocabulary and knowledge. However, you may try even harder to boost your vocabulary over time steadily.
Remember that the OET study resources are very limited. Therefore, you should seek help if you're unsure where to start.
Ultimately, understand your English level before choosing OET or PTE.
Pros and cons of PTE
Pros:
PTE is more affordable than OET.

PTE exam content is easier and more extensive than OET.

PTE study resources are easily accessible and diverse.

You can book the PTE exam more conveniently with many options for test dates

You can get PTE test scores quicker.

PTE is more suitable for employment or academic entry purposes than OET.
Cons:
PTE may not be the best option for people with little computer experience as the PTE test is entirely computer-based.
Pros and cons of OET
Pros:
OET is more relevant in the medical field.

OET may be easier in several ways as it involves more medical content than PTE as long as you have a good understanding and vocabulary in the field.

 You can benefit from your inline knowledge, language, and work experiences in the healthcare sector.
Cons:
OET exam fee is quite high.

The medical vocabulary in the OET test is complex.

OET is not as widely recognized as PTE in English proficiency tests.
Conclusion
Have you chosen the desired test? Remember to define your goals before entering the preparation phase.
Hope our comparison between OET vs PTE will be helpful for you. Contact us if you opt for the PTE exam.