We are delighted to share the exciting news that on the morning of April 16th, 2023, PTE MAGIC was recognized as one of the Top 20 Gold Brands in Vietnam for 2023. This prestigious accolade places us among other esteemed companies such as SHB, Viettel Post, and Mai Linh Taxi. The event, organized by the Institute of Cultural Economics and the Consumer Protection Center, aims to honor entrepreneurs, businesses, brands, products, and services that have made significant contributions to the well-being of Vietnamese consumers.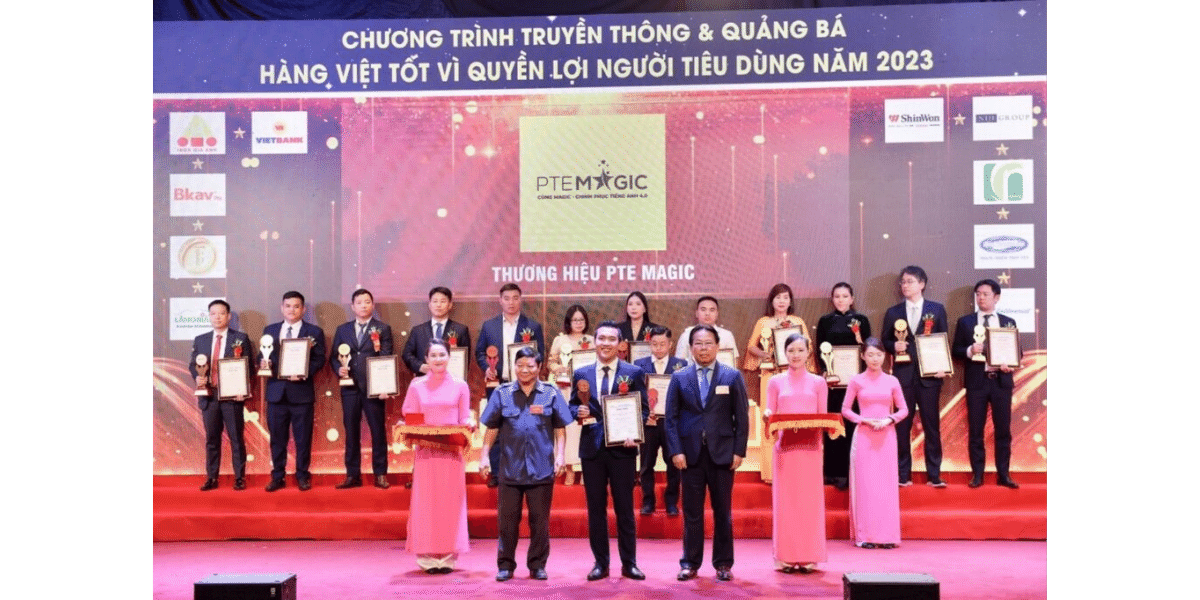 PTE MAGIC: Revolutionizing Language Learning and Testing
Since our establishment in 2016, PTE MAGIC has garnered the trust of over 20,000 global students. We have achieved this through our unwavering commitment to building and enhancing diverse study programs, leveraging cutting-edge technology in teaching and testing, and continuously improving the quality of our curriculum and teacher proficiency. Our online platform, PTE Magic AI, boasts an impressive user base of over 150,000 individuals from 58 countries worldwide.
Collaborations and Partnerships for Success
At PTE MAGIC, we believe in the power of collaboration. We have forged strategic alliances with renowned partners and universities in Australia, facilitating workshops, events, and invaluable resources for students interested in learning PTE or seeking guidance on study or settlement visas in Australia. Our commitment to providing comprehensive support extends beyond the classroom, empowering our students to achieve their goals with confidence.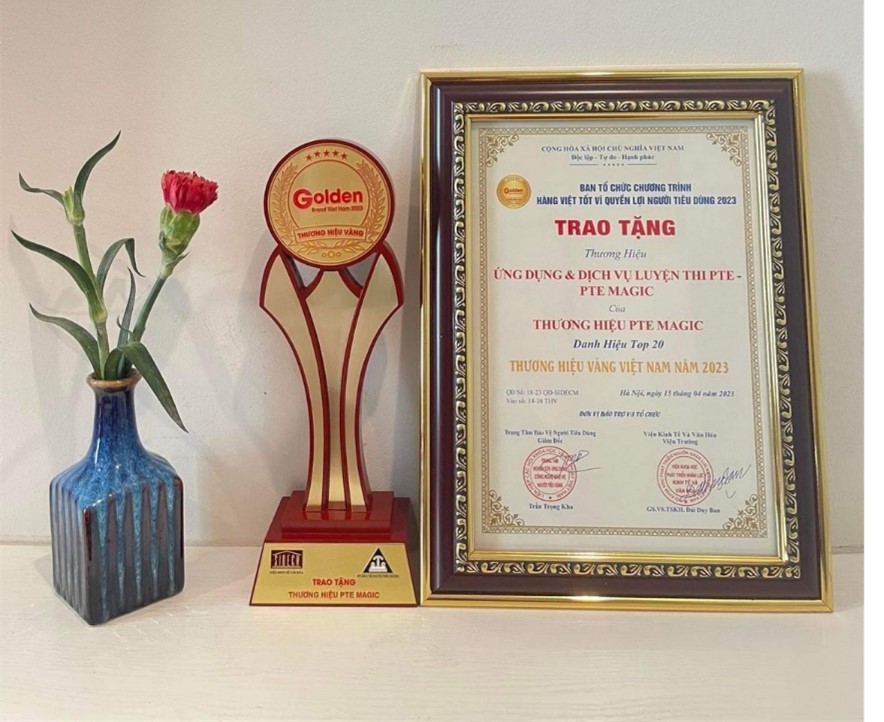 The Significance of PTE Academic Certification
In Australia, the PTE (Pearson Test of English) certification holds widespread recognition and acceptance by universities, recruitment organizations, and immigration authorities. PTE Academic offers a comprehensive assessment of language proficiency, enabling students to evaluate and improve their English language skills in listening, speaking, reading, and writing. Our dedication to excellence in language testing ensures that students are equipped with the necessary tools for success in their academic pursuits and beyond.
Celebrating Success: The Top 20 Brand Vietnam Event
The Top 20 Brand Vietnam event was a momentous occasion, broadcasted live on H1 channel – Hanoi Television Station. Alongside the closing ceremony, participating businesses gathered at Ba Dinh Square for a public announcement ceremony, offering prayers for peace and blessings. The festivities continued with an exchange banquet held at the revered Tam Chuc Pagoda, fostering connections and further strengthening the bonds within the Vietnamese business community.
Being recognized as one of the Top 20 Gold Brands in Vietnam for 2023 is a testament to the dedication and hard work of the entire PTE MAGIC team. We are immensely proud of our achievements in revolutionizing language learning and testing, and we remain committed to providing exceptional educational experiences for our students. As we celebrate this milestone, we extend our gratitude to our students, partners, and the Vietnamese community for their unwavering support. Together, we will continue to shape a brighter future and empower individuals to reach their full potential through language proficiency.